Four Seasons Resorts Maldives Surfing Champions Trophy 2011
Surfing goes five star and beyond from August 29 to September 5, 2011 at Four Seasons Resort Maldives at Kuda Huraa.
The Maldives is set to host the world's most exclusive surfing event this August featuring six world champions, a leading five-star surfing resort, a luxurious 39-metre three-deck catamaran, and perfect reef break waves.
Conceived in conjunction with luxury surf pioneers Tropicsurf, Four Seasons Resorts Maldives Surfing Champions Trophy will see the sport's biggest legends – including four-time world champion Mark Richards of Australia – compete across three disciplines that showcase the evolution of modern surfing. Competitors will contest the Single Fin (1970s), Twin Fin (70s and 80s) and Thruster (80s onwards) divisions for USD 25,000.00 prize money while enjoying the spoils of Four Seasons Resort Maldives at Kuda Huraa.
Recent publicity is highlighting what the locals have known for years: that the Maldives is home to some of the world's most impressive, consistent – and warmest – swells. Seven-time world champion Layne Beachley is looking forward to embracing the challenge in style. "I've never been to the Maldives and I can't think of a better way to go than in five-star style," says the Sydney surfer. "It will be back to basics in the ocean while living it up on land."
Also included in the legendary line-up is 1988 world champion Barton Lynch of Australia, with three other surfers yet to be announced.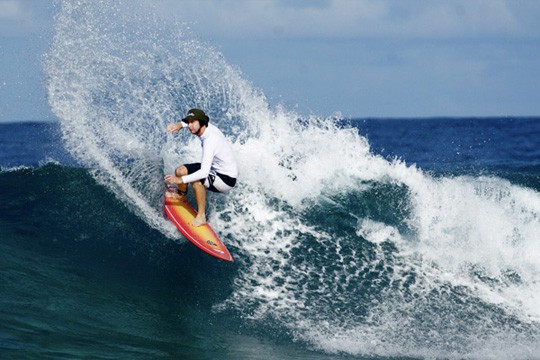 Never before has a surf competition amassed such a high-profile field in such exclusive surroundings. "It's the ultimate surf competition showcasing a hand-picked field of iconic champions with the latest surf craft available," says Event Co-ordinator and General Manager of Tropicsurf Mark Winson. "We're talking about six of the sport's most acclaimed surfers taking on old rivals while competing for high stakes in some of the best surf on the planet."
Guests will rub shoulders with the contest's participants in Kuda Huraa's vibrant village-like resort – home to competitors, judges and supporters alike for the duration of the event.
The Resort's all-inclusive four- or seven-night Champions Trophy package – available from August 29 to September 5, 2011 only – will also get right on top of the action with competition day passes aboard Four Seasons Explorer and three half-day surfing passes with Tropicsurf. The package also includes luxurious full board accommodation (excluding beverages); combined recreational activities including diving sessions, shark safari, dolphin cruise and sunset fishing; a Surfer's Massage; nightly sundowners on Sunset Beach and a 50 percent discount off round-trip airport transfers via speedboat.