Maldives to take legal action over continued New Seven Wonders bid
Maldives Marketing and Public Relations Corporation (MMPRC) has issued a warning statement given the fact that the New Seven Wonders is still counting Maldives as a contender, after the country's Cabinet announced it was pulling out of the competition.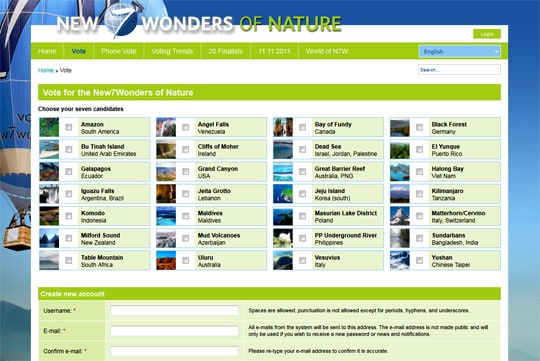 The corporation issued the statement following a statement by the New Seven Wonders that Maldives will continue to be a contender despite the government's decision and an article published on the Minivan News website.
The corporation said it tried to contact New Seven Wonders via email and phone, but to no avail.
MMPRC, which stressed that the government is the sole authority that can do anything under the country's name, said it approved the Maldives entrance to the competition as it was authorised with the government's seal and signature.
The statement read, "If the country's name is used in the competition without the government's approval, there is no option left but to take legal action."
In a statement, New Seven Wonders earlier said the organisation has accepted the resignation of the Maldives Ministry of Tourism as the Official Supporting Committee for the Maldives. However, proposals have been made for an alternative Official Supporting Committee for the Maldives, the organisation added.
Meanwhile, Maldives Association for Travel Agents and Tour Operators (MATATO) earlier revealed its plan to work jointly with other associations, including the Maldives Association for Construction Industries (MACI), Liveaboard Association of the Maldives and Maldives Association of Yacht Operators (MAYA), to ensure that the Maldives remains in the competition.
MMPRC said the Maldivian government is the only party authorised to take decisions regarding the Maldives participation in the contest, according to the agreement.
The corporation, which raised dubious questions in the statement, noted that following the government's request to reduce the amount of pay required to stay in the competition, New Seven Wonders asked a third party for funds to sustain the country in the competition.
MMPRC also raised doubts about the authenticity of the voting system.
Source: Haveeru News