Ishmeet Singh died in Maldives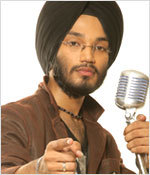 The winner of Star TV show "Voice of India 2007″, singing competition held by India's Star Plus Channel, Ishmeet Singh died in Maldives on Tuesday evening.
Officials from the Chaaya Dhonveli Beach Resort where he was staying said that Ishmeeth had drowned between 5:15pm and 5:20pm while in the swimming pool of the resort.
"He went into the swimming pool with a couple of his friends this afternoon," Marlon Robert, the Assistant Manager of the Resort, said. "None of them knew how to swim so he was using the baby (shallow) swimming pool. Since he didn't know how to swim we had advised him not to use the big pool. Somehow or other he ended up in the big pool. When he couldn't get out of it his friends apparently went looking for help."
According to the Maldives Police Service, Ishmeeth's body had been immediately brought to the ADK Hospital in Male' after the incident. The doctor who had attended to him said that the cause of death seemed to be by drowning. Police said that their investigations were now proceeding.
Arrangements are underway to transport Ishmeeth's body back to India, sources say.
The 19-year-old singer had arrived in Maldives Tuesday morning to take part in a show being held in Male', the capital city, by his contracting music company. The show was planned to be held during this weekend.
Supporters of the singer voted heavily for him from Punjab during the finals of the contest. Even though Harshit led the votes tally in most regions of the country, the final count went in Ishmeet's favour due to heavy voting from Punjab.
Ishmeet had won the 'Voice of India' singing contest held on November 26, 2007, pipping his closest rival Harshit from Uttar Pradesh in a keen contest. He was given the winner's trophy by melody queen Lata Mangeshkar.