Body of Ishmeet Singh Flown to India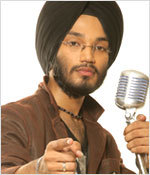 The body of Ishmeet Singh – winner of Star TV show "Voice of India 2007″, singing competition held by India's Star Plus Channel, has been flown to India this morning.
Ishmeet Singh is reported to have died by drowning in the pool of Chaaya Dhonveli Beach Resort where he was staying. While there has been reports of different speculations as to the cause of his fatal accident, as of yet there has been no comment by his friends who were at the pool with him at the time of the tragic accident. The Maldives Police are currently carrying out necessary investigations.
The 19-year-old singer arrived in Maldives Tuesday morning to take part in a show being held in Male', the capital city, by his contracting music company. The show was planned to be held during this weekend.
Everyone who accompanied Ishmeet Singh to the Maldives has also now returned to India and the show to be held in Malé has now been postponed. However, before they left, the Vice President of Star Plus channel, talking to Television Maldives, promised to be back to hold the postponed show. Saying that he felt deeply indebted to the Maldivian supporters for the love and affection they showed to Ishmeet and his team during this short, ill-fated trip, he said they would definitely be back to hold the show here in Malé. He claimed it would be for the sake of Ishmeet Singh.