Adaaran Club Rannalhi is locates in South Malé (Kaafu) Atoll, 34km. from Malé International Airport.
Transfer: 45 min. from Hulhule International Airport by speedboat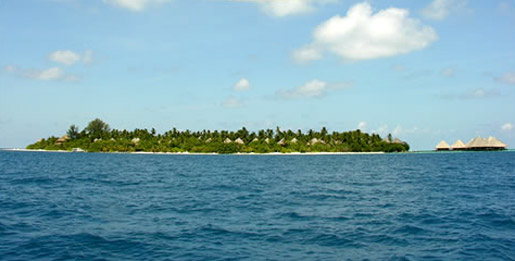 At Rannalhi, there's always something happening… night and day. Group activities led by friendly, dynamic animators, restaurant theme nights… water sports and beach action by day, music, dancing and entertainment at night. Though if you want to find a quiet place to relax and just laze, we have plenty of those, too…
Accommodation
Five hectares of nature's unparalleled beauty combine to offer an exquisite tropical island getaway for just about everyone.
Water Bungalows
Club Rannalhi's water bungalows are a luxurious experience in themselves – a private sun deck and glass floor for reefwatchers are just two reasons why communing with nature gains a whole new meaning here. A great place to relax and recharge your batteries after a hard day's play.
Room facilities
Private sun deck
Glass floor in the room to view underwater marine life
Personal safe
Tea/Coffee maker
TV with Satellite channels
Mini Bar
King Size or Twin Beds

Standard Rooms
Rannalhi' two storied chalets offer comfort and space in your private living area, with full facilities.
Terrace or Balcony
IDD phone facility with direct dialing
Flat Screen TV with Satellite channels
Mini Bar
King Size or Twin Beds
Spacious bathroom with hot/cold fresh water & shower cubcicle
Credit Cards:
Amex, Visa & MasterCard.
Dining
Restaurant with theme nights
The large, airy restaurant is more than just a place to eat – it's also a place to meet and make friends with your fellow guests. Frequent theme nights let you sample the cuisine and culture of the world.
Coffee shop
Snack menus and a variety of hot and cold beverages form part of your all-inclusive package. Drop by whenever you feel like it!
Two bars
A choice of places to sit, sip, meet and exchange fun and laughter. Watch the play of wind and water around our award-winning Dhoni bar, or enjoy the more private ambience of the Bungalow Bar.

Boutique
A rich choice of clothing, souvenirs, accessories and those little essentials you can't do without.
Gem and jewellery shop
A trove of fine Sri Lankan gemstones and a selection of fine jewellery. Like the pirates of old, you may find treasure on a tropical island!
Animation
Every day passes in a blur of activity when you go out to play in the company of our friendly, highly-trained animators. Activities include Water Aerobics, Beach games & a resident DJ.
Breakfast service (water bungalows only)
In bed, or out on the terrace of your bungalow. For those very special mornings.
Special dinners on the beach (extra charge)
Dine by lamplight on a snowy beach as the afterglow paints the sky with purple and indigo. Raise your glass in an intimate toast to the rising lovers' moon. An experience not to be missed.
Ayurvedic Massage Centre
The refreshing, rejuvenating powers of a traditional Ayurvedic massage will amaze you. Just the thing for those mornings when you're feeling a little slow off the mark.
Excursions
Island Hopping
A full-day excursion that includes a visit to an uninhabited island – ideal for swimming or relaxing under the sun after (or even before) a delicious barbeque lunch. A visit to an inhabited island offers a taste of Maldivian life and culture, the perfect end to a perfect day.
Night Fishing
The most popular excursion in Maldives, this gives you an opportunity to enjoy the spectacular sunset while dropping a hand line near a reef or an ideal fishing spot where grouper, snapper, squirrelfish, skipjack and barracuda abound. Bait fish, weight, lines and hooks are all provided, along with a friendly boat crew. Your catch of the night can be served (on request) at dinner the following day (limit: two fish per person).
Fisherman's Island
The Village Tour – a glimpse of the life and heritage of a community of around a thousand people living on one of Maldives' magical islands. A place to acquire souvenirs and local handicrafts, plus a lasting memory of exotic Maldives.
Morning Fishing
Wake up early to experience the ocean and coral reefs at their best, surrounded by palms and sandy beaches, while you try your hand at trawl fishing the Maldivian way.
Malé Shopping & Sightseeing
A morning in Malé, traveling on foot – the most interesting and enlightening way to experience the hive of activity that is the Maldivian capital. The magnificent marble and gold Grand Mosque, the heart of the Sunni Muslim community, is a must-see.
Diving
The Rannalhi Dive Shop & Diving School has everything you need for diving and snorkeling adventures. Plus, our Water Sports Centre offers you the chance to enjoy catamaran, canoe and banana-boat rides, windsurfing and water skiing. There's really no limit to the water sports you can enjoy at Rannalhi.
For the avid diver, we offer boat diving and house-reef diving courses leading to PADI certification in English, French, German, Italian and Russian.
Contact Adaaran Club Rannalhi's

Tel: +960 6642688
Fax: +960 6640235