Diva Maldives Resort is 25 minutes from Malé by seaplane, a short journey but one that you will never forget.
Paradise is made of this! An island resort, surrounded by a crystal-clear lagoon and miles and miles of ocean in shades of blue and turquoise.
This is the place for a real break, far removed from the bustle of modern life, on a beautiful island, full of tropical greenery, surrounded by a fabulous lagoon, perfect for swimming and snorkeling and close to the Maldives' best dive sites.
RESTAURANTS
SENSES – Oriental Flavours with Indian Touch
Middle East style food inspired by Lebanese, Indian and Indian Ocean cuisines. The restaurant leads on to a terrace and an infinity pool, stretching as far as the sea. A lounge bar features a selection of cocktails, rums, liqueurs, beers and international brands of spirits, as well as a selection of famous Sri Lankan teas served during Arabic style afternoon tea. In the evening the bar is serving 'a la carte' snacks.
NOO Restaurant – International cuisine
Noo is a spectacular, shell-shaped restaurant, featuring international cuisine. The restaurant is located at center of the island, serving breakfast, and dinner in buffet style with live cooking stations ranching from pizzas, rotisserie, wok and grill stations.
IRU Bar – Champagne Bar
The brightly colored circular bar, Iru, the local word for Sun, is located on the sea, facing the sunset. the bar is an ideal venue for an unforgettable aperitif at the end of the afternoon Iru offers an extensive selection of champagne. Serving 'a la carte' snacks.
VELI Pool Bar – Pool and Beach Bar
Veli means Sand in Dhiveli. The bar adjoins the circular swimming pool that extends out to sea, looking out onto the crystal-clear lagoon on three sides. The bar serves a full snack menu with pizzas sandwiches spring roll, etc. Open during the day only
PURE – Japanese Modern Cuisine
Standing on stilts over the water, Pure features modern Japanese-style open cooking. It has a Tepaniaki table, where the Chef performs a "live" show, displaying all his skills as he prepares their dishes in front of the guests. The restaurant is open evenings only and tables should be reserved in advance.
EAST – South East Asian Restaurant
This is the resort's Asian style restaurant standing on stilts over the water, with a wonderful view out over the lagoon. it is opened for breakfast and dinner, featuring, amongst others, Cambodian, Indonesian, Thai, Sri Lankan, Hong Kong and Chinese-style buffets.
SEASON – Beach Restaurant
The beach Bar & Restaurant is located next to the boathouse and opens only during the day. The menu offers an array of lunch options ranching from salads to sandwiches and pastas to grilled lobster.
ALLEGRIA – Italian Restaurant
Welcome to Diva Maldives' Italian restaurant for genuine and traditional Italian cuisine. The concept is again open-kitchen, with large glass windows through which you can see the kitchen staff at work. Allegria features Italian specialties for dinner only.
24-hour room service.
SPA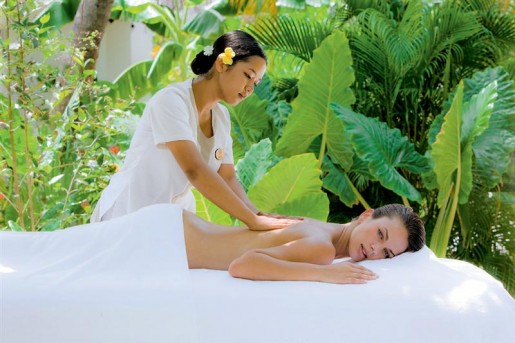 Imagine a spa location so exquisite that even the journey there takes your breath away. The exclusivity of a private island where the spa is nestled in a Garden of Eden. Lush vegetation and natural botanicals make the perfect surroundings for the 5 star deluxe Spa retreat Infinity, managed by Coconut Spa. Boasting 15 spacious treatment villas with an exclusive treatment. Begin your spa journey with a warm welcome from our Balinese team at the main spa reception. Relax as your feet are bathed with water and botanicals as our welcome ritual, to prepare you for a day of serenity and tranquility. Let us understand your needs with a detailed consultation so that we may bespoke and customize your entire spa experience.
Choose to relax in our dedicated relaxation and thermal suite exclusive to either men or women. Benefit from the therapeutic effects of experiencing the steam room followed by the ice room and the sauna and then relax in the pool or chill out with a good book on our double canopy. Alternatively share your spa journey with a loved one in our communal relaxation area with sauna, steam, hot tub and cold plunge. Your therapist will greet you and guide you to your deluxe treatment villa to enjoy your treatment. Choose either one of our eleven treatment villas hidden privately in the Spa Garden, or opt for one of our four deluxe treatment villas over water.
With the magnificent views of the Indian Ocean, our deluxe treatment villas elevate the spa experience to another level. Take in the views of the marine life while receiving your spa treatment or massage. With glass bottom floors and fish swimming in and out of the coral, your mind is transported to another world.
DIVING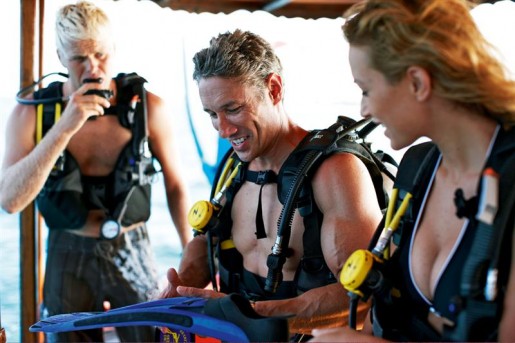 Two diving sessions are organized daily, with at least one monitor for 4 divers.
The sites are about 1.5 km apart and the fauna includes tuna fish, barracudas, king fish, eagle rays, small white sharks and turtles. Dive sites include Maamagili, suitable for beginners, Aa Thila for the more experienced and Thinfushi Beru Tila for advanced divers.
Even for those who have never dived before, Diva Maldives is the perfect place. All the monitors are qualified to run courses from beginner up to PADI level and are trained in rescue techniques. NITROX diving courses are also available.
Kids Club
Team members are available every day to look after children aged from 3 to 12, from 9 a.m to 9 p.m
A whole range of activities is organised for them, adapted to particular age groups, to make sure they too experience an unforgettable holiday.
Children can have lunch at the kids club between noon and 1p.m. and dinner between 6.30p.m. and 7.30p.m.
Children below 3 years old must be accompanied by a parent or a baby sitter. A baby-sitting service, for which a fee is charged, is also available.
Teens Club
The Teens Club is a space where older youngsters can relax and have fun. The Club has a Table Tennis, a Table Football, and games machines. Open from 10 a.m to 10 p.m
Excursions
Trips by high-speed lauchn or dhoni
Snorkelling trips (one hour or half-day)
Night fishing
Shopping on nearby islets
Cultural excursions
Champagne Sunset Cruise
Other facilities
Internet lounge
Three shops (Island Breeze)
Night Club
Infirmary with a resident doctor
Information counter
Wi-fi (free)
HONEYMOON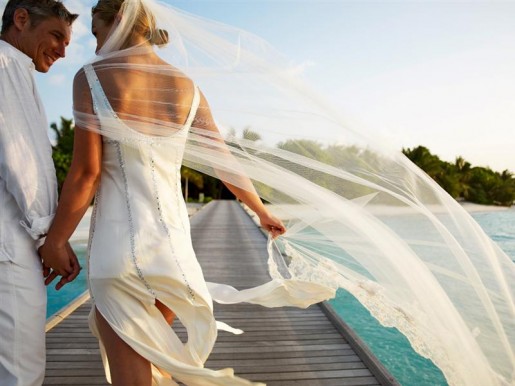 [adlarge]Your package will include a Maldivian Bodu Beru band, tropical island flowers decorating your ceremonial location, as well as for the bride, a professional photographer and individually decorated wedding buggy for the occasion.
In addition, following your exchange of vows, chilled Champagne and canapés will be served for the wedding toast with your choice of Cake or tropical fruit. A private romantic dinner will follow in the evening, at a location of your choosing.
The day closes with a warm aromatherapy bath waiting for you in your villa, inviting you both to relax and reminisce on the events of the day"¦
The Package includes:
Ceremony at the beach
Tropically decorated ceremonial location
Maldivian Bodu Beru Band
Frangipani lei for the bride, Flower bouquet for the bride
Maldivian Lover Cup, Maldivian Celebrant
Photographer, Photo Album, Photographs, CD with digital negatives
Single layered Wedding Cake or tropical tiered fruit selection
Symbolic Wedding Certificate
Champagne for toasting Selection of chilled canapés
Private romantic dinner, Choice of dinner location with decoration
Romantic floral Aromatherapy bath for the couple in the room
Romantic evening turn down with flowers
Coconut tree planting ceremony with wooden carved name plaque
Decorated golf cart
Assistance of Wedding coordinator
Contact Diva Maldives
Tel : (230) 698 2222/ 698 2727
Fax : (230) 698 4222
E-mail : [email protected]
Website : www.naiade.com/en/hotels/maldives/diva_maldives/default.aspx