Vilamendhoo Island Resort
A breathtaking glimpse of paradise in the midst of the vast Indian Ocean awaits the guests as they disembark a journey of discovery, the discovery of Vilamendhoo island resort in the Maldives.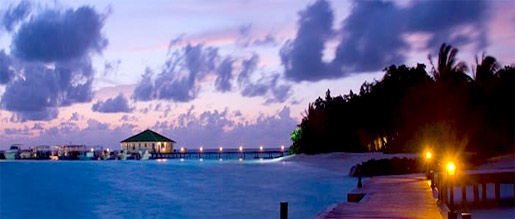 Located in the southern part of Ari Atoll. Vilamendhoo Island Resort is approximately 900m in length & 300m in width, with a beautiful sandbank jutting out from its western tip. The island boasts with sandy beaches & turquoise colored lagoon enfolding the whole island.
Accommodation
There are 184 Superior rooms & 10 Deluxe rooms are designed to the classic styles of the early 80's Maldivian resorts with quality fixtures, furniture & facilities that include with hot/cold water, hair dryer*, IDD telephone & refrigerator.
Food
A candlelit dinner for two"¦ exotic cuisines, palm fronds dancing to the rhythm of the wind, gentle waves creating barely a ripple in the tropical landscape of blue-green hues. Experience the ultimate romantic fantasy here.
Enjoy an array of Maldivian, Continental & Oriental cuisines at our Restaurants. Watch the sunset & experience the kaleidoscope of colors enveloping the island at the Sunset bar while indulging in your favorite cocktails.
Activities
Music
Lively performance, traditional Maldivian music & modern grooves emanate from the resort's Main bar & Disco every week keeping the guests moving & in-mood.
Water Sports
Cruise through the azure water of the Indian Ocean or letting the wind guide you through the calm and serenity of the deep blue waters. Vilamendhoo offers activities from windsurfing, leisurely cruises around the island on a canoe to water skiing & other water sport activities for all ages.
Diving
A pair of fins & mask can be your passport to snorkeling your way to an underwater odyssey of marine wonders enclosed within the natural barriers of the island's house reef. Strap a tank & traverse through a colorful plethora of aquatic floral & fauna in one of the best diving sites.
Contact Vilamendhoo Island Resort Resort:

South Ari Atoll, Republic of Maldives
Tel: (960) 6680637
Fax: (960) 6680639
Email: [email protected]
Website: www.vilamendhooisland.com