Vilu Reef Beach and Spa Resort
A luxurious emerald island poised amidst shimmering pools of turquoise and sapphire. A vision of paradise – even before you set foot on the island. Sprawled across the entire expanse of Meedhuffushi Island in South Nilandhe Atoll, 128km south of Male' International Airport, Vilu Reef Beach and Spa Resort never fails to create a breathtaking first impression, rivaled only by the experience of embracing the island's beauty up close. Blessed with pristine beaches and lush greenery, this unspoilt island boasts a treasure trove of gems that await discovery by every guest. The island is reached by a 35 minute picturesque journey by seaplane.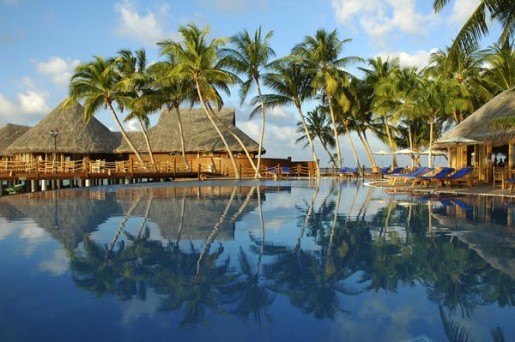 Accommodation
20 Garden Villas – Simple yet stylish, these semi detached rooms are built within the landscaped gardens of the resort, equipped with all modern amenities and partially open bathrooms and a comfortable patio with sun loungers. The rooms are situated within a few paces from the beach and lagoon.
60 Beach Villas – Inspired by the tranquil perfection of nature, each villa is distinguished by its circular architecture and spiral roof modelled after the renowned Nautilus shell. The same attention to detail and celebration of beauty and harmony permeate every aspect of the villa, from its individually appointed teak furnishings to its en-suite bathroom with open-air enclosed courtyard for maximum privacy. To complete this luxurious holiday experience, make your way through the double glass panelled doors onto a vast timber deck and marvel at the sweeping views of the beach and lagoon.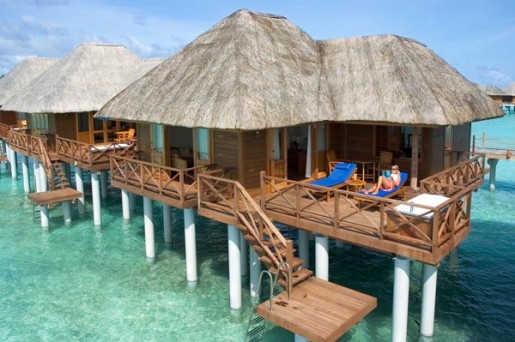 35 Jacuzzi Water Villas – Bask in the warm embrace of the sun as the gentle lapping of waves lulls you into blissful oblivion. With your very own Jacuzzi and chaise lounge on the extended deck overlooking the lagoon, as well as a swim-up platform with private stair access to the lagoon, this picture of contentment is yours any minute of the day. Inside, you'll be equally delighted with our array of amenities, from a sumptuous four-poster king-sized bed to a generous sitting area appointed with custom made teak furniture.
5 Honeymoon Water Villas – For an intimate getaway with all the comforts and luxuries of the privileged few, look no further than our five Honeymoon Water Villas – an exclusive haven nestled within this island paradise. Besides all the amenities of our Jacuzzi Water Villas, each Honeymoon Water Villa comes equipped with a private steam bath to soothe away all your cares. And as a special treat, a separate living room with floor-to-ceiling glass panels brings the splendor of nature right to your doorstep.
Presidential Water Suite – Indulge in the height of luxury in our sole presidential water suite, a sumptuous retreat at the far northern end of the resort where the two footbridges meet. An exquisite balance of modern design and traditional Maldivian architecture, this suite will transform your stay into something quite spectacular. Bask in your private plunge pool with Jacuzzi on the double-leveled timber deck, or enjoy spectacular views of nature's grandeur from your glass-walled living room. Or simply get away from it all in either of your two king-sized bedrooms with en-suite, a well stocked kitchenette and a luxuriously appointed dining area.
Spa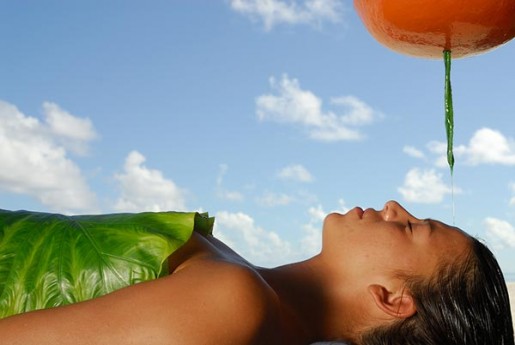 A tranquil pond with water fountain immediately transfers you to a calm state of mind when you enter the Sun Spa at Vilu Reef Beach & Spa Resort. An oasis of serenity awaits you within a setting of rustic ambience. As you relax before your treatment, you can lie back in a central 'Bale' seating area and take in the atmosphere of the spa away from the bustle of outside life.
Diving
Soar through the crystalline waters of the Indian Ocean and discover for yourself why divers and snorkelers alike consider Maldives a dream come true. With astounding visibility – sometimes even exceeding 50m – every turn unveils new treasures and secrets hidden to the rest of the world. Gliding along, you'll be mesmerized by the myriad colors and varieties of underwater life, or you might even chance upon lonely caves and ancient shipwrecks. And with Maldives' invitingly warm waters all year round, we're sure that, like the rest of our guests, you'll soon be back for more.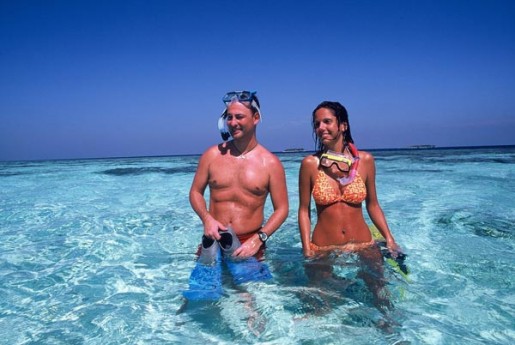 Facilities
Swimming Pool
Jewelry and souvenir boutiques
In-house doctor and clinic
Internet access and reading corner
International Direct dialing (from all villas)
Satellite TV
Laundry Service
Foreign currency exchange
Baby sitting service (children over 2 years)
Children's playground
Multi-lingual staff
24 hour guest assistance
Recreation
An enviable range of recreational activities are available at the resort including the adrenaline pumping Water Sports , adventurous and exciting Excursion trips and land sports to plan out the day. Come evening, the Nautilus Bar is the socializing hub, with a variety of entertainment including crab racing, live band music and discos.
Contact Vilu Reef Beach and Spa Resort

Vilu Reef Beach and Spa Resort
Meedhuffushi
South Nilandhe Atoll
Republic of Maldives
Tel: (+960) 676 0011
Fax: (+960) 676 0022
E-mail: [email protected]
Website: www.vilureefmaldives.com
See Also Pictures of Vilu Reef Beach and Spa Resort