Embark on a voyage of discovery towards an island once uncharted now discovered. Take a 50-minute picturesque Island Aviation Domestic flight from Malé, due north, to the airfield of Hanimadoo "¦ the treasure is within your grasp.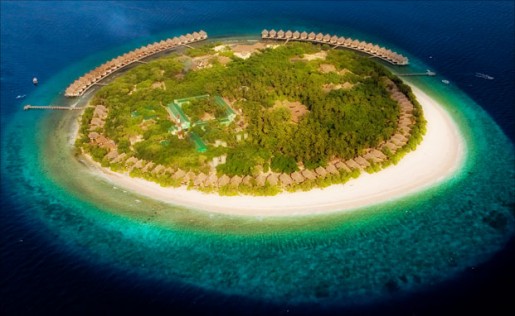 Cast away the map "¦ for it is no longer required. The secret unfolds in the course of a 15 minute speedboat ride through the widely undiscovered northern atoll of Haa Alifu … it is a perfectly 'rounded' island, spanning over 35 acres, with nature's breathtaking 'aquarium' all around and a beautiful coral garden beneath.
Accommodation
Permit us to escort you to your very own hideaway. Gaze out at azure waters. Wiggle your toes in the soft, white sand. Be warmed by the sun. Prepare to lose yourself in an experience that is the epitome of luxury.
All rooms are set in villas facing the sea or in the waters of the ocean. They have been especially designed to blend harmoniously into their surroundings.
Beach Villa – 45 Beach Villas offer panoramic views of the ocean. Their tasteful interiors feature strong colours, noble timber floors and traditional Maldivian thatched roofs. The Beach Villas have a connecting lounge area and an open verandah With Jacuzzi.
Duplex Beach Villa – Beautifully structured with two levels, all our 7 Duplex Beach Villas are right on the sea front. High ceilings covered with Maldivian thatched roofs allow a smooth flow of cooling sea breezes. On the ground floor a comfortable lounge area invites you to make yourself at home while allowing your eyes to feast on the view of the ice-blue waters. At the upper level, a bedroom with attached bathroom and a timber decked balcony promise tranquil luxury.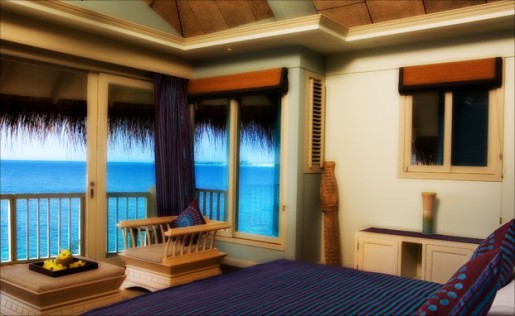 Duplex Ocean Villa – The 46 Ocean Villas could fool you into thinking you are on a yacht, spacious and luxurious as they are and built completely over the sea. Dangle your feet in the deep blue sea as you admire nature's own aquarium below you. Let the naturally air-cooled winds soothe you as you train your sights on the horizon and the adjoining islands. Snooze off in the bedroom on the upper level. Soak in a hot tub in the open-plan bathroom or the Jacuzzi on the verandah.
Cinnamon Suite – Far from the madding crowd. Set amidst lush tropical vegetation. With its own private plunge pool. Not just for Heads of Government. The Cinnamon Suite is the preferred luxury getaway for the rich and the famous. The entire villa is reminiscent of a village structure with thatched roofs and wide terraces overlooking the ocean. A large living room and dining room with lovely timber flooring are perfect for family meals and get-togethers. Both of the bedrooms have an attached toilet with a very spacious open plan bathroom, shower and Jacuzzi.
The Cinnamon Suite also has a pantry and butler's quarters.
Contact Cinnamon Island Alidhoo
Tel : 00960 650 11 11
Mobile : 0096 7415474
Fax : 00969 650 12 34
Contact Person : Mr. Raj Anandappa
E-mail: [email protected]